---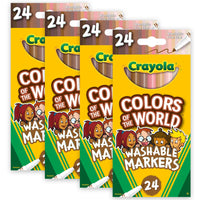 Sale
Colors of the World Fine Line Markers, 24 Per Pack, 4 Packs
Crayola®
Sale price $45.99 Regular price $47.40
Crayola Colors of the World Fine Line Markers contain specially formulated, washable colors that represent people from all around the world. Now it's even easier for kids to color themselves, their families and friends from all over the globe! Colors of the World fall into three main shades: Almond, Golden and Rose – and all the darker or lighter shades in between – making it easy for kids everywhere to see themselves in their art! Crayola Fine Line Markers are precise drawing tools. Ideal for coloring in small areas, these markers are also great for writing or drawing thin lines or dots. These markers lay down plenty of vibrant color and won't smudge or bleed through paper. Each pack includes 24 markers. Sold as 4 packs for a total of 96 markers.

Key Features :

i : 96 MARKERS: Each Fine Line Marker Set features 24 Crayola colors that represent people from around the world. Sold as 4 packs for a total of 96 markers.
ii : GREAT WITH COLORING BOOKS: These washable skin color markers are an exciting addition to your Crayola collection, making coloring pages and drawings even more detailed and realistic.
iii : WASHABLE MARKERS: Crayola Washable Markers wash from skin and most washable clothing.
iv : CLASSROOM SUPPLIES: Stock up classrooms and craft rooms with coloring supplies for school projects, crafts, and more!
v : COLORS OF THE WORLD: Includes colors such as Deepest Almond, Medium Golden, and Light Rose.